Gayle King Joins The Banana Pudding Pudgie Movement!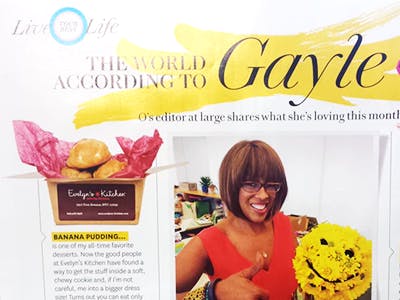 Gayle King and O, The Oprah Magazine Love Some Pudgies! As featured in the September 2014 issue of O Magazine "The World According to Gayle":
"Banana pudding is one of my all-time favorite desserts. Now the good people at Evelyn's Kitchen have found a way to get the stuff inside a soft, chewy cookie and, if I'm not careful, me into a bigger dress size! Turns out you can eat only so many Banana Pudding Pudgies before you start feeling a little pudgy yourself, but I can't say enough about how tasty these treats are. See for yourself: Evelyn's Kitchen ships all over the country."
$48 for a box of 18 @ Evelyns-Kitchen.com